Common-words frequencies, Shakespeare's style, and the Elegy by W. S.: figures and tables
Hugh Craig
University of Newcastle, New South Wales
Hugh.Craig@newcastle.edu.au
Craig, Hugh. "Common-words frequencies, Shakespeare's style, and the Elegy by W. S.: figures and tables". Early Modern Literary Studies 8.1 (May, 2002): 3.1-42 <URL: http://purl.oclc.org/emls/08-1/craifigs.htm>.
---
Table 1
Poems in the textbase
Author
Year of Birth
Title
"W.S."
??
Elegy
Campion, Thomas
1567
Two Books of Airs, Book I
Carew, Thomas
1595
Poems (1640), first 25
Chapman, George
ca.
1560
Epicede
Chapman, George
ca.
1560
Hero and Leander
Daniel, Samuel
1562
Delia
Donne, John
1572
section of Poems
Donne, John
1572
First Anniversary
Donne, John
1572
Second Anniversary
Drayton, Michael
1563
Endimion and Phoebe
Fulke Greville
1554
Treatise of Religion
Herbert, George
1593
The Church-Porch
Herbert, George
1593
The Church Militant
Herbert, George
1593
20 from The Temple
Herbert, Mary
1562
Sonnets, 44-63
Herrick, Robert
1591
Hesperides, 1-50
Heywood, Thomas
ca.
1570
A Funerall Elegye
Jonson, Ben
1572
The Forrest
Jonson, Ben
1572
The Famous Voyage
Lanyer, Aemilia
1569
"Eve's Apology", "Cookham"
Marlowe, Christopher
1564
Hero and Leander
Nashe, Thomas
1567
Choise of Valentines
Raleigh, Sir Walter
1552
Poems (not "Cynthia")
Shakespeare, William
1564
Sonnets
Shakespeare, William
1564
The Rape of Lucrece
Shakespeare, William
1564
Venus and Adonis
Sidney, Sir Philip
1554
Astrophel and Stella
Southwell, Robert
1561
St Peter's Complaint
Spenser, Edmund
1552
The Faerie Queene, Book 1, Cantos 1-3
Webster, John
?
1582
A Monumental Column
Wroth, Lady Mary
?
1587
Pamphilia to Amphilanthus, 1-48
<![if supportMisalignedColumns]> <![endif]>
---
Table 2
Plays in the textbase
Author
Title

     

Date

        

(from Annals)
Beaumont, F and J. Fletcher
The Maid's Tragedy
1610
Beaumont, Francis
The Knight of the Burning Pestle
1607
Cary, Elizabeth
Mariam
1604
Chapman, George
The Revenge of Bussy d'Ambois
1610
Dekker, Thomas
A Shoemaker's Holiday
1599
Fletcher, John
Valentinian
1614
Fletcher, John and Massinger
The Bloody Brother
1617
Fulke Greville
Mustapha
1596
Goffe, Thomas
The Courageous Turk
1619
Greene, Robert
Friar Bacon and Friar Bungay
1589
Greene, Robert
I Selimus
1592
Heywood, Thomas
A Woman Killed with Kindness
1603
Jonson, Ben
The Case is Altered
1597
Jonson, Ben
Every Man in his Humour
1598
Jonson, Ben
Every Man out of his Humour
1599
Jonson, Ben
Cynthia's Revels
1600
Jonson, Ben
Poetaster
1601
Jonson, Ben
Sejanus his Fall
1603
Jonson, Ben
Volpone
1606
Jonson, Ben
Epicoene
1609
Jonson, Ben
The Alchemist
1610
Jonson, Ben
Catiline his Conspiracy
1611
Jonson, Ben
Bartholomew Fair
1614
Jonson, Ben
The Devil is an Ass
1616
Kyd, Thomas
The Spanish Tragedy
1587
Marlowe, Christopher
Dido, Queen of Carthage
1586
Marlowe, Christopher
I Tamburlaine the Great
1587
Marlowe, Christopher
The Jew of Malta
1589
Marlowe, Christopher
Doctor Faustus
1592
Marston, John
Antonio's Revenge
1600
Marston, John
Sophonisba
1605
Middleton, Thomas
The Phoenix
1604
Middleton, Thomas
A Trick to Catch the Old One
1605
Middleton, Thomas
A Mad World, my Masters
1606
Middleton, Thomas
Michaelmas Term
1606
Middleton, Thomas
Your Five Gallants
1607
Middleton, Thomas
No Wit, no Help Like a Woman's
1611
Middleton, Thomas
A Chaste Maid in Cheapside
1613
Middleton, Thomas
The Witch
1613
Middleton, Thomas
More Dissemblers Besides Women
1615
Middleton, Thomas
Hengist, King of Kent
1618
Peele, George
King David and Fair Bethsabe
1594
Porter, Henry
Two Angry Women of Abingdon
1598
Rowley, William
A New Wonder, a Woman Never Vexed
1611
Rowley, William
All's Lost by Lust
1619
Shakespeare, William
King John
1591
Shakespeare, William
Richard III
1592
Shakespeare, William
The Comedy of Errors
1592
Shakespeare, William
Two Gentlemen of Verona
1593
Shakespeare, William
Love's Labours Lost
1595
Shakespeare, William
Richard II
1595
Shakespeare, William
Romeo and Juliet
1596
Shakespeare, William
The Merchant of Venice
1596
Shakespeare, William
I Henry IV
1597
Shakespeare, William
II Henry IV
1597
Shakespeare, William
The Merry Wives of Windsor
1597
Shakespeare, William
Henry V
1599
Shakespeare, William
Julius Caesar
1599
Shakespeare, William
Hamlet
1601
Shakespeare, William
Twelfth Night
1601
Shakespeare, William
Troilus and Cressida
1602
Shakespeare, William
All's Well that Ends Well
1603
Shakespeare, William
Measure for Measure
1604
Shakespeare, William
Othello
1604
Shakespeare, William
King Lear
1605
Shakespeare, William
Antony and Cleopatra
1607
Shakespeare, William
Coriolanus
1608
Shakespeare, William
Cymbeline
1609
Shakespeare, William
The Winter's Tale
1610
Shakespeare, William
The Tempest
1611
Tourneur, Cyril
Atheist's Tragedy
1611
Webster, John
The White Devil
1612
Webster, John
The Duchess of Malfi
1614
Wilmot, Robert, and others
Tancred and Gismund
1591
Wilson, Robert
The Three Ladies of London
1581
<![if supportMisalignedColumns]> <![endif]>
---
Table 3
Word-types counted
In ascending order of number of zero counts in select set (and descending order of frequency
in full set)
1-10 the and I of a is it in(p) to(i) to(p)
11-20 not will(v) with be he his but this have for(p)
21-30 as him all thou what are thy that(d) do shall
31-40 if now by(p) that(c) or we(tp) they thee no(adj) she
41-50 her(adj) so(ad) at from would was their then here there
51-60 how more them which(r) our(tp) on(p) well when one may
61-70 for(c) yet make must were had such us(tp) did hath
71-80 where these some an like(p) most time made being who(r)
81-90 though you that(r) good o come let love so(am) see
91-100 should than know can too take nor could might many
101-110 my me upon(p) out up(a) much life men thus so(c)
111-120 fair your give think doth cannot down live her(pp) man
121-130 why say tell great again away been done thine look
131-140 who(int) hear go mine(adj&pp) art(v) in(a) back unto himself am
141-150 above speak on(a) will(n) through having myself soon themselves lord
151-160 dost thyself no(e) shalt dare wilt over under by(a) canst
161-170 itself king herself methinks like(v) like(n) sir ye aye to(a)
171-180 yours yourself ourselves for(a) son wouldst like(a) shouldst art(n) mayst
181-190 yourselves self today does tomorrow has durst sirra wert which(int)
191-194 upon(a) doing wast ours(tp)
Word-types with more than fifty-four zero counts:
195-200 our(rp) we(rp) hers ought tonight couldst
201-210 darest us(rp) methought theirs mightst its beest sire ours(rp) ourself
211-219 up(p) dared selves methoughts mought mine(n) mowe oughtst wolle
Abbreviations: (a) adverb, (adj) adjective, (adj&pp) adjective and personal pronoun, (ad)
adverb of degree, (am) adverb of manner, (c) conjunction , (d) demonstrative, (e)
exclamation, (i) infinitive, (int) interrogative, (n) noun, (p) preposition, (pp) personal
pronoun, (r) relative, (rp) royal plural, (tp) true plural, (v) verb.
---
Table 4
Comparison of t-test probabilities for common-words variables
Notes: Low values indicate marked differences between Shakespeare and non-Shakespeare texts.
Equal variances are not assumed.
set 1 (variables chosen by Foster)
set 2 (rejected by Foster)
and
but
not
so
that
most
like
by
in
to
with
plays
0.72
0.21
0.02
0.15
0.14
0.12
0.16
0.00
0.31
0.46
0.80
poems
0.10
0.44
0.64
0.18
0.88
0.35
0.48
0.42
0.67
0.75
0.16
all texts
0.13
0.04
0.00
0.50
0.77
0.19
0.81
0.11
0.49
0.19
0.94
t-test means:
set 1
set 2
plays
0.22
0.39
poems
0.44
0.50
all texts
0.35
0.43
<![if supportMisalignedColumns]> <![endif]>
---
Table 5
Foster, Elegy, Table 1.17 (p. 144). Retyped.
.

combined works

probable range

control group

most probable

.
.

low

1

high

2

low

3

high

4

low

5

high

6

low

7

high

8

Elegy

9

and

TGV

24.1

H5

38.4

23.6

37.6

Cym.

24.5

Tmp.

29.6

24.3

29.3

109

25.2

but

Lr

5.1

MM

9.3

5.6

10.1

Tmp.

7.0

WT

9.1

7.6

9.9

37

8.6

not

H5

7.9

JC

13.4

6.2

10.5

Tmp.

9.7

WT

12.4

7.6

9.7

41

9.5

so

Wiv.

4.7

WT

7.9

5.9

9.9

Cor.

5.1

WT

7.9

6.4

9.9

28

6.5

that

Wiv.

9.8

TGV

16.9

11.9

20.4

Tmp.

11.8

Cym.

13.6

14.3

16.5

62

14.4
---
Table 6
"Shakespearean" ranges for eleven common-words variables
Notes: Format is based on Foster, Elegy, Table 1.17. Rounded values as shown are used for calculations.
Base counts are from the textbase compiled by the present author. Ranges on which the Elegy "passes" are shaded in blue.
.

combined works

.

probable range

.

control group

.

most probable

.

x

p/d
ratio

low
1

high
2

low
3

high
4

low
5

high
6

low
7

high
8

Elegy
9

and

1.03

TGV
23.8

H5
36.8

24.5

37.9

Cym.
24.2

Tmp.
29.1

24.9

30.0

108
25.0

but

1.10

Lr
4.9

MM
9.2

5.4

10.1

Tmp.
7.0

WT
9.0

7.7

9.9

38
8.8

not

0.75

H5
7.8

JC
13.3

5.9

10.0

Tmp.
9.6

WT
12.2

7.2

9.2

41
9.5

so

1.25

Wiv.
4.6

WT
7.8

5.8

9.8

Cor.
5.0

WT
7.8

6.3

9.8

28
6.5

that

1.17

Wiv.
10.9

TGV
18.0

12.8

21.1

Cor.
12.5

Cym.
14.0

14.6

16.4

62
14.4

.
most
0.57
.

Wiv.
0.4

Ham.
2.7

.

0.2

1.5

.

Cym.
1.7

Tmp.
2.6

.

1.0

1.5

.

11
2.5

like
1.67

Oth.
0.8

Ham.
2.5

1.3

4.2

WT
1.7

Cor.
2.2

2.8

3.7

8
1.9

by
1.19

Wiv.
3.0

R III
6.0

3.6

7.1

Cor.
3.9

WT
5.0

4.6

6.0

41
9.5

in
1.28

WT
10.2

H V
16.6

13.1

21.2

WT
10.2

Cor.
13.5

13.1

17.3

138
32.0

to
1.05

H IV
118.4

MM
26.6

19.3

27.9

Tmp.
18.6

Cor.
26.0

19.5

27.3

132
30.6

with
1.42

AW
6.6

R II
10.5

9.4

14.9

Cym.
7.7

Cor.
9.7

10.9

13.8

25
5.8
---
Table 7
Passes and fails for nine poems using the Shakespeare "most probable frequency" range
Elegy
Venus and Adonis
Rape of Lucrece
Shakes. Sonnets
Heywood Elegy
Webster Elegy
Chapman Epicede
First Anniv.
Second Anniv.
and
p
f
p
p
p
f
f
f
f
but
p
p
f
p
f
f
f
f
f
not
f
p
f
f
p
p
f
f
f
so
p
p
p
p
f
p
p
p
f
that
f
f
p
f
p
f
f
f
f
most
f
f
f
f
f
f
f
p
f
like
f
f
p
f
f
f
p
f
f
by
f
p
f
p
f
f
f
p
p
in
f
p
p
f
p
f
f
p
p
to
f
f
p
p
f
f
p
p
p
with
f
p
f
f
f
f
f
f
f
passes overall
3
6
6
5
4
2
3
5
3
passes in first 5
3
3
3
3
3
2
1
1
0
<![if supportMisalignedColumns]> <![endif]>
---
Figure 1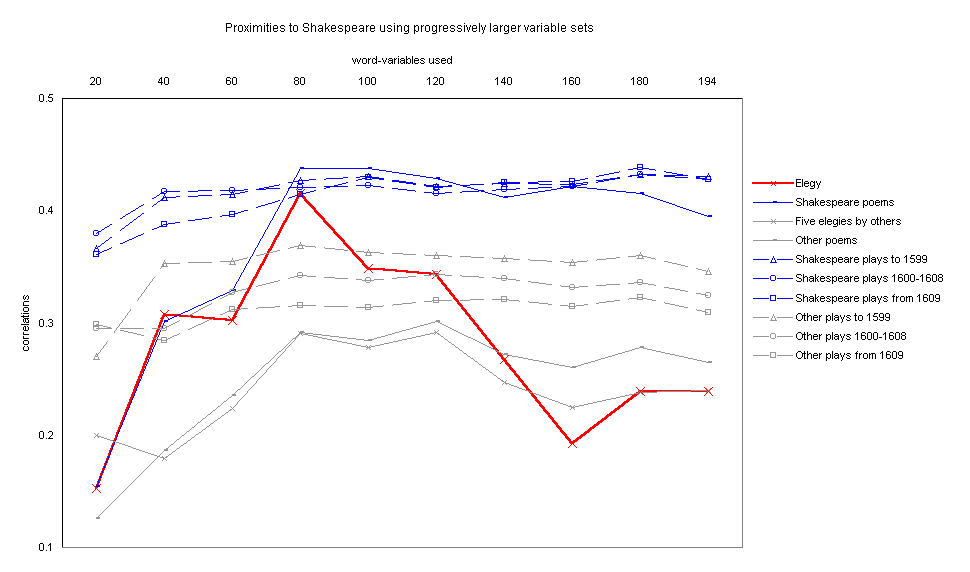 ---
Figure 2
---
Figure 3