The Comedy of Errors. Presented by Northern Broadsides at the West Yorkshire Playhouse and on tour, February - June 2005.
Reviewed by Lisa Hopkins
Sheffield Hallam University
l.m.hopkins@shu.ac.uk

Hopkins, Lisa. "Review of The Comedy of Errors. Presented by Northern Broadsides at the West Yorkshire Playhouse and on tour, February - June 2005". Early Modern Literary Studies 11.1 (May, 2005) 17.1-3<URL: http://purl.oclc.org/emls/11-1/revlherr.html>.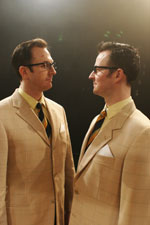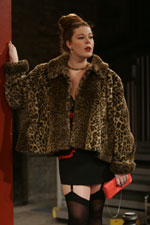 (Photographs by Nobby Clark. Images courtesy of Northern Broadsides, http://www.northern-broadsides.co.uk/ )
Directed by Barrie Rutter. Designed by Giuseppe Belli and Emma Barrington-Binns. Music composed by Conrad Nelson and performed by members of the company. With Richard Standing (Solinus), Barrie Rutter (Egeon), Andrew Cryer (Antipholus of Syracuse), Conor Ryan (Antipholus of Ephesus), Conrad Nelson (Dromio of Syracuse), Simon Holland Roberts (Dromio of Ephesus), Max Rubin (Merchant), Zoe Lambert (Adriana), Claire Storey (Luciana), Gary Skelton (Balthazar and officer), Guy Parry (Angelo), Ruth Alexander-Rubin (Luce and Courtesan), Andrew Vincent (Dr Pinch), and Sarah Parks (Abbess).
The Comedy of Errors has one of the most daunting opening scenes in Shakespeare, with Egeon's terrifyingly long speech only too likely to lose audience attention before it has ever been gained. Northern Broadsides' production of the play obviates this difficulty by transposing the lines about the town being full of cozenage to the very beginning (although they are also repeated in their proper place), so that an atmosphere of mystery and expectation is created from the outset, even before Barrie Rutter's strong set-piece delivery of Egeon's monologue. This is enhanced by the imaginative set, which supplements the octagonal, park-bandstand-like strucure of previous Broadsides productions here with four rectangular panels showing clouds at the back of the stage and three model buildings, about the size of dolls' houses, at various points on it. Upstage left there is a pristine white abbey suspended above the stage, which is lit up from within before the play begins, during the interval, and during the scene in the abbey. Downstage right what looks for all the world like a classic Georgian dolls' house, painted dark blue, is poised as if on a bird-table, lighting up whenever the setting is in Antipholus of Ephesus' house. Finally, upstage right a cluster of small, close-set houses like a typical Mediterranean village represents Ephesus. Like the other two, it is illuminated before and after the play and during the interval to give an effect a little like Hallowe'en lanterns.


In this pleasing setting, men in light suits wield umbrellas instead of swords, while Adriana, clad from head to foot in canary yellow, and Luciana, pretty in pink, look as innocent and pastel as Battenberg cake. Only the courtesan, in fur coat and with stocking tops, brings a slightly loucher note, and even here the production is notably innocent: not only does Antipholus of Ephesus, as the programme wittily notes, emulate Bill Clinton by smoking but not inhaling, but there is not, as so often, any suggestion that Adriana's lunchtime activities with Antipholus of Syracuse might have extended to more than just eating and drinking. Indeed, she, Luciana, and the wrong Antipholus all sit particularly primly while the Dromios and the right Antipholus battle it out over a half-size door with the onstage musical instruments providing the various sounds of their supposed knocking.


The cast do well to play these instruments themselves as well as act, but partly because of this the production does sometimes have a slight feel of being underpopulated. Egeon's opening speech has only Solinus and a distant and unresponsive guard for audience, and misses a trick here, since the response of the onstage audience to it can be so powerful a tool for conditioning that of the offstage audience. Even odder is the fact that Egeon is freed shortly afterwards and wanders aimlessly off, though he is duly bound again for the last scene. Barrie Rutter's performance in this rôle sets the tone for the production as a whole: the verse is notably well spoken, with clear pointing of the meaning, but neither the emotional nor the comic potential is always fully tapped. Indeed, the audience is unusually subdued for the first part of the evening, though the compensation here is a slow burn which builds to a hilariously farcical climax with Antipholus of Ephesus doing frog leaps over the stage before bawling in the true style of Basil Fawlty, 'I am not mad!', and a splendid double invalid carriage staffed by four assistants with yellow rubber gloves. Entertaining though it is, though, as well as being commendably pacey - the first half lasts 50 minutes and the second 65 - this is a production that pleases but provides no revelations.

---
Responses to this piece intended for the Readers' Forum may be sent to the Editor at M.Steggle@shu.ac.uk.


© 2005-, Matthew Steggle (Editor, EMLS).