Information for speakers and delegates
Information for speakers
Information about your presentation is here. If you have not already done so, please send us the full text of your presentation.
The full conference runns from Thursday afternoon to Saturday evening. Dialogue / panel sessions will take place on Friday and Saturday.
You can find the FULL PROGRAMME and details of the keynote speakers on the Programme page.
We also send regular updates relating to the conference to the conference email list, which we advise all delegates to join. To subscribe, go to the JISCMAIL page.
Venue
The conference was held at Sheffield Hallam University's Furnival building, located in the heart of Sheffield's Cultural Industries Quarter. The building is home to the Art and Design Research Centre and the new Sheffield Institute of Arts Gallery , and is a pleasant five minute walk from the train station.
Sheffield Hallam University
Furnival Building
153 Arundel St
Sheffield
S1 2NU
United Kingdom
Visit us on

Conference Location
The conference is hosted by Sheffield Hallam University right in the city centre. When you step out of Sheffield station you will be greeted by the 'Cutting Edge' (below), a dramatic public artwork by one of the university's metalworkers, Chris Knight, guiding you up through the newly developed pedestrian route towards the university and the heart of the city.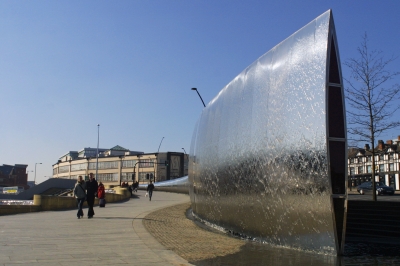 The university is close to many of Sheffield's landmark buildings, including the Winter Gardens, the Millennium Galleries, and Butcher Works as well as other art galleries, cafes, shops and restaurants.
Accommodation
Delegates can take advantage of the university's negotiated discount rates at hotels in Sheffield. The rates are up to 33% less than you would normally pay to stay at the hotels listed. However, advance booking may secure a better rate.
The hotel closest to the conference venue in Furnival Building is Jury's Inn, 2 minutes walk away (but there are major roadworks going on at the moment). Novotel Sheffield and Mercure St Pauls Hotel have the closest city centre location to the conference. Premier Inn St Mary's Gate is a 10 minute walk from the city centre and within walking distance of the popular Ecclesall Road area of shops, bars and restaurants.
Here's a handy map which shows the location of some of the city centre hotels and here is a map of the university's city campus.
Download SHU hotel rates
Budget accommodation in student halls of residence is also available at the University's Collegiate Crescent campus, which is a short bus ride or 20 minute walk away from the conference venue. This is basic self-catering student acommodation, located close to the shops, bars and cafes of the popular Ecclesall Road area. For two nights' stay, the cost is £40 (+VAT except students). Additional nights are £15 per night. Rooms are limited, so early booking is advised. To find out more, please contact Conference21@shu.ac.uk for details and booking forms.